PMG Community Improvements Initiative
Helping the community work for you



We heard you loud and clear. So, we've been hard at work developing plans to expand resources and improve the experience for our PMG community.
The first order of business was to modernize our Community Forum. The next time you visit the PMG Support site, click on
Communities
to check it out. (Or just click the link.
)
As you can see, we've improved the user experience – cleaning up current topics by retiring a few as well as adding new ones, like the App Designer topic.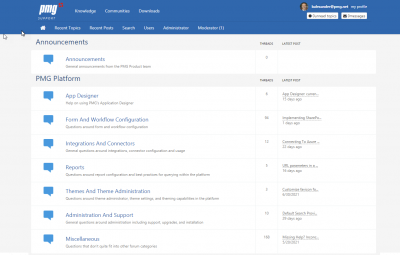 You'll also find the Forum more integrated with the Support site overall. Our goal is to make sure that all members of our PMG community have the resources they need easily at hand.
Keep an eye out for more improvements coming as part of our PMG Community initiative. Next time, we'll tell you about our upcoming PMG Ambassador program.