New private dashboard with PMG usage metrics
Unlock enhanced support and direct product feedback

PMG is proud to announce a new offering to our on-prem customers – meet PMG Analytics! This support offering is FREE and provides a way to maximize the value of your PMG implementation. (Don't worry SaaS customers, we've already got you covered on this front with our ongoing SaaS support and monitoring!)
What is PMG Analytics? In short, it's a dashboard for your PMG production instance that provides raw data and insights into your platform usage.
Benefits from PMG Analytics include:
Confidence in your investment through greater operational reporting, with your own personalized dashboard and the ability to export your data easily for further analysis.
Visibility into platform usage and trends, providing key information for organizational reporting and planning for future growth.
Infrastructure monitoring – PMG Analytics runs independently of the platform and provides a quick method of visually checking on the health of your servers.
Enhanced support assistance – in the event of a production problem, PMG Support will have a head start on the investigation process.
Product feedback – usage data across customers will enable us to identify customer trends, which then allow us to identify improvements for our product roadmap.
So…what exactly do you get?
Great question! The main component is the PMG Analytics dashboard, which will be accessible at any time at support.pmg.net.
Usage data is comprised of four key indicators: user sessions, orders, workflows, and actions. For each indicator, we provide the raw data for a given week – such as the total number of workflows – as well as various metrics to help identify trends (e.g. percent change from the previous week and the 4-week rolling average).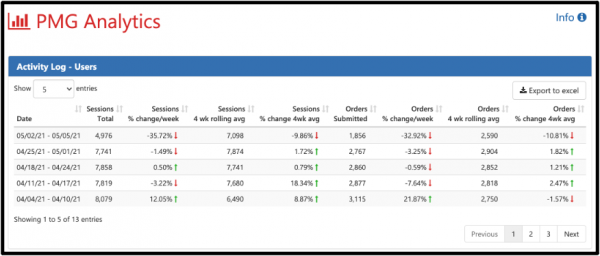 Each metric is also individually plotted out on a graph to make it easier to identify trends.

Finally, we do need to know some things about your specific setup to gather all of this usage data, so it only makes sense to also provide some information about the uptime and health of your servers. The dashboard includes this stoplight chart, which makes it easy to see at a glance if all is well with your infrastructure performance.
So, what's the catch?
Honestly, there isn't one. We expect some customers to have concerns around security – possibly wanting to ask us something along the lines of, "Sharing data in 2021 is scary. Is this safe?"
The answer is, "yes!" Absolutely. We fully recognize that if you choose to opt-in to PMG Analytics, you'll be entrusting us with your data. Rest assured that we don't take that responsibility lightly. Securing your data is of the highest priority and utmost importance to us. All data will be secured on PMG's AWS servers and accessible only on a "need to know" basis. Your data will never be shared with any third parties.
Ok, I'm in – where do I sign up?
Sign up on the Support site or reach out to your favorite PMGer. No matter how you contact us, we'll be ready to help!