Make it easy for users to find what they need
Easily expand Search parameters

Whether you're searching for Bobby Fischer or trying to find Nemo, PMG has got you covered. On the Platform, you can control the types of objects that Search will return for users. This can be a boon to improving the user experience.
For instance, if your PMG implementation makes use of Knowledge Management, you may want to enable documents and topics to return in searches. If you use PMG "apps" heavily and leverage Featured Apps, those can be returned in search results as well.
And remember, you can still control access to objects that you want to limit to certain users or roles. By managing permissions in conjunction with opening up Search, users get best possible user experience while still only being able to find and see the things they should in the Platform.
You know what else you can enable for Search? Requests! While most folks are accustomed to visiting their Request History to view requests, providing the ability to find these via Search offers a convenient and fast way for users to track down what they're looking for.
With all of these great use cases possibilities, how do you manage Search parameters?
In the System Settings (Administration > Settings), there are a plethora of search settings that can be enabled or disabled, all depending on your preference.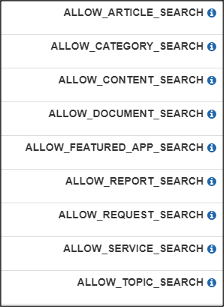 It's simply a matter of enabling the types of objects you want Search to return, and then the world is your oyster – at least when it comes to Search!