Manage Queue Users in PMG
Now it's possible in workflows

Editing queue membership via our standard interface is like riding a bike for most of us… second nature. However, we're always looking for ways to improve the platform in any way we can.
Now in v21.1, we give more flexibility to manage queues via the new Manage Queue Users workflow action. So if you're looking for ways to go beyond what queue management currently offers, this one's for you.
With this feature, managing queue membership can now be tailored to your specific business processes. For example, adding a member to appropriate queues for something as common as an onboarding solution is a simple yet time saving change.
Or maybe you want to kick things up a notch and provide a way to manage queue membership from an external system? In that case, you'd simply build a workflow to do this and publish it as an API endpoint via our Workflow Functions feature.
The Manage Queue Users action can be found in the Platform category in the left-hand menu of Workflow Designer. Configuring it requires only the user information, queue name, and action to perform such as Add or Remove.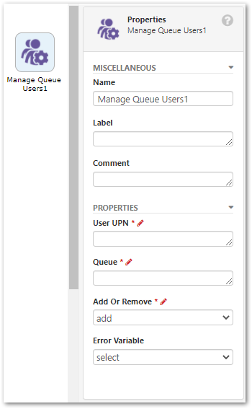 Time to cue up your queues!