PMG's workflow orchestration engine offers low-code configuration for even the most complex end-to-end business processes.
What is Workflow Designer?
The PMG Workflow Designer is a canvas with a drag-and-drop interface and a wide range of action steps that can be placed in any order to represent virtually any business process.
The resulting workflow is not just a graphical representation – it's executable to power automated steps, logic, and data processing as well as orchestrate human steps where needed.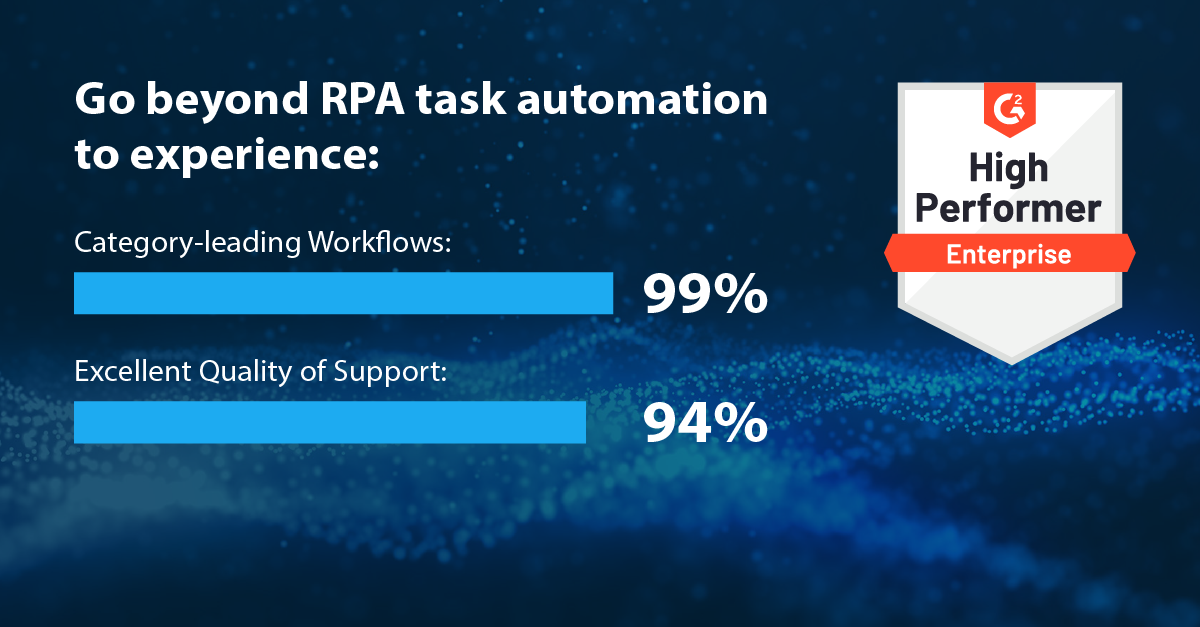 Run workflows anywhere within the platform – user interfaces, dashboards, forms, etc.
Call a PMG workflow from an external system to process data or execute a process flow
Increase the accessibility of powerful solutions by empowering non-developer users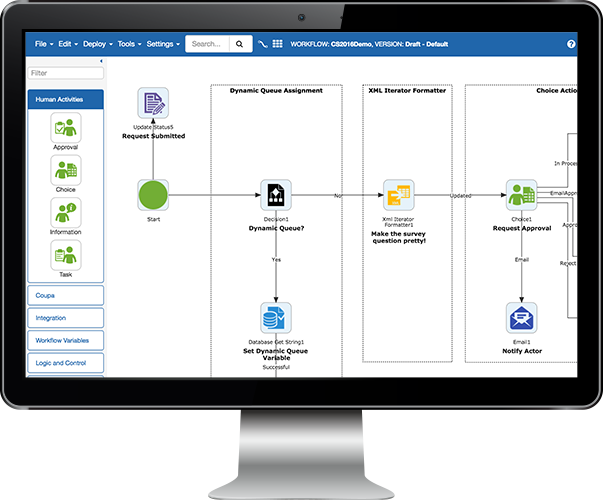 Whether you're looking to increase efficiency or to completely transform some aspect of your business, process automation is the key ingredient.
Reduce email volume and paperwork
By automatically passing along and routing tasks and data, time "lost" in email inboxes and stacks of paperwork is eliminated.
Streamline work assignments
Automation manages your team's work efficiently by prioritizing, assigning, routing, and escalating tasks without human intervention.
Initiate your process on command or by trigger
Whether a process is kicked off by user input on a form or triggered by an event, workflow execution is reliable and seamless.
Leverage intelligent orchestration.
Workflows automate activities from simple tasks and notifications to complex, non-linear processes with unpredictable routing, and everything in between.
Flexible design capabilities
PMG's Workflow Designer supports complex workflows and unstructured processes like Case Management.
Decision rules or manual intervention create the path needed
Whether the process logic is highly automated or whether workers control the direction and timing of actions, the workflow orchestrates all interrelated activities.
Drive consistency and governance across the organization
The workflow engine manages processes executed solely within the platform as well as those involving other portals or systems through easy-to-configure integration.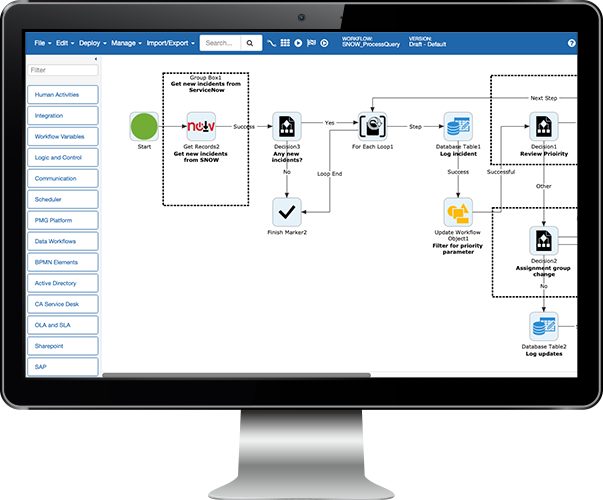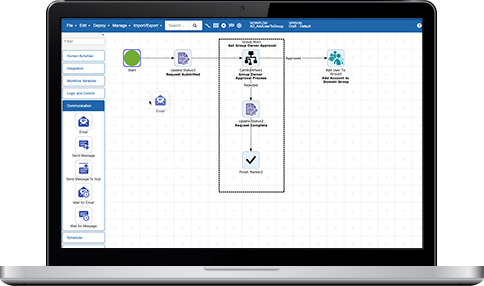 Enjoy low-code configuration.
PMG's Workflow Designer allows you to quickly create an executable workflow model with the specific steps and logic needed to power any business process.
Drag-and-drop action steps to build workflows
Processes are modeled visually in the Workflow Designer to include any number of human activities, integration points, conditional logic, and more – whatever your process requires.
Extensive palette of action steps
PMG comes with an extensive array of configurable workflow actions out-of-the-box, giving you a comprehensive low-code toolbox to choose from.
Powerful actions can be quickly configured
Everything from human actions to data processing and decision rules to integrations are easily configurable.
Palette of configurable actions includes:
Logic (business rules, decision management, etc.)
Workflow processing (variables, loops, parallel processing, sub-workflows, etc.)
Data functions (database queries, math, etc.)
Progress markers (status updates, milestones, SLAs & OLAs, etc.)
Human activities (tasks, approvals, etc.)
Notifications (emails, escalations, etc.)
Timing (schedulers, timers, wait for message, etc.)
Integrations (pre-built connectors, REST & SOAP calls, web services, etc.)
Documents & files (pdfs, Excel, secure signatures, file transfer, etc.)
Advanced capabilities (.NET code, XML, PowerShell, SSH commands, etc.)