Application Portal: the Face of your Business Application
Creating a business application in PMG starts with configuring a portal page, configured and branded to your company's unique specifications.
A gateway to your solution.
The web-based front-end is the home screen from which users interact with their applicable processes or services, as well as each other. It provides a centralized page to work tasks and see key data – a destination where users can go to reliably get the information they need and take the actions necessary to do their jobs.
Easily configure your portal pages
Portal pages can be added and configured with widgets to create the interfaces needed for your user audiences. Widgets can contain data feeds, charts and graphics, integration points, report elements, and links to kick off services and workflows.
Control access and layout by group
Portal pages are permissions-based, so you always control who has access. Individual users only see the content and functionality they've been given permission to see, all displayed with the branding or theme associated with their particular user group.
Seamless authentication
PMG's portal authenticates users against your Active Directory, LDAP, SAML or other authorization service to provide role-based access to relevant content. And SSO capability means that users can remain logged in for convenience.
Facilitate collaboration
Available communications widgets include a comments log, messaging, and even an opt-in distribution list to notify designated users about status updates or work assignments.
The portal component is critical to delivering an intuitive, satisfying user experience, which in turns drives adoption and confidence in your application. An effective portal page ties together all of the elements users need in a cohesive, branded front-end interface.
Support work activities
When configuring a portal page, you can choose from a broad range of options, including interactive elements, charts, or team comments for easy collaboration. Users are enabled to interact with their specific tasks, teams and data, complete assigned tasks, or initiate new processes.
Get the front-end look you want
PMG's theme administration allows you to design a portal layout and navigation structure that's specifically tailored to your business process and the people who use it. Branding capabilities ensure that your solution will align with the look and feel of your company's image.
Mobility
Pages are automatically built with responsive design so that business applications will dynamically size to fit mobile devices. With PMG, users can view dashboards, approve requests, and complete assigned tasks whenever and wherever they need.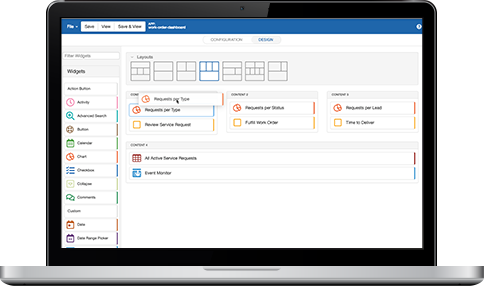 PMG's Application Designer
PMG's App Designer enables you to configure the front-end to a solution or application by dragging and dropping widgets onto the selected page layout. Choose from a wide variety of informational elements to create a collaborative workspace for the users involved in any project, process or service. Widgets include:
Activity feeds
Message inbox
Team comments
Search
Calendar
And many more
Click here to see samples of PMG portal pages and dashboards.