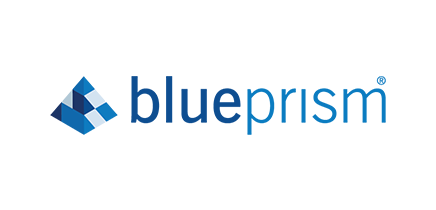 The Blue Prism/PMG partnership integrates PMG's low-code development platform with Blue Prism Robotic Process Automation (RPA) for comprehensive end-to-end process orchestration, delivering key elements of hyperautomation.
By implementing PMG in conjunction with Blue Prism's Digital Workforce, enterprises achieve better
results from their automation initiatives, including: 
• End-to-end automation with the ability to improve business processes as needed
• Maximized efficiency improvements by orchestrating processes around the bots
• Integration of disparate systems without code
• More flexibility by handling unstructured data, complex logic, and non-linear processes
• Full support of security and governance requirements in every solution
• Empowerment of business workers to develop their own apps and dashboard
PMG & Blue Prism Use Cases
PMG workflow calls a Digital Worker ➜ PMG passes data to the worker and receives data back from Blue Prism ➜ PMG evaluates the data using configured business logic ➜ the PMG process workflow progresses based on the result.
Blue Prism Digital Worker calls a PMG workflow for exception handling when bad data requires manual intervention ➜ PMG processes the error and routes the workflow based on the error type ➜ PMG may open a ticket or case for the error ➜ the updated data is sent back to PMG from the external system once the manual task is completed ➜ PMG continues the business process workflow with the complete data set as required.
As the pioneer, innovator and market leader in Robotic Process Automation, Blue Prism (AIM: PRSM) delivers the world's most successful Digital Workforce. Blue Prism provides a scalable and robust execution platform for best-of-breed AI and cognitive technologies and has emerged as the trusted and secure RPA platform of choice for the Fortune 500. For more information, visit www.blueprism.com.
Contact us to learn how PMG's Blue Prism integration can serve your business needs.